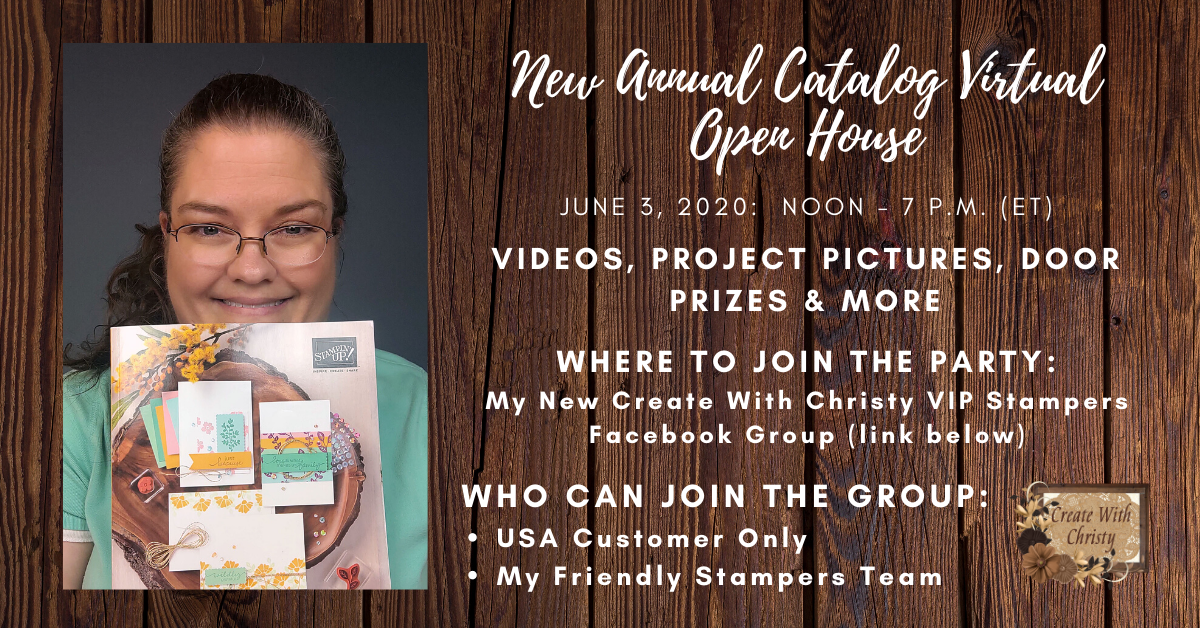 Date & Time:

June 03, 2020  

|

   12:00 PM  -  07:00 PM

Location

My Create With Christy's VIP Stampers Facebook Group

Address

https://www.facebook.com/groups/CreateWithChristyVIPs/
New Annual Catalog Virtual Open House
I can't wait to show you the brand new 2020-2021 Stampin' Up! Annual Catalog, so I'm doing a New Annual Catalog Virtual Open House!
There will be videos (Live and recorded), door prizes, order specials, and more!
Where:
My New Create With Christy VIP Stampers Facebook Group:
https://www.facebook.com/groups/CreateWithChristyVIPs/
Who Can Attend:
~ USA Customers (per Stampin' Up! rules, I can only do business with people that live in the USA).
~ My Friendly Stampers Team (my downline)
If you meet the criteria of who can attend, just click on the group page link above. Once there, click the "Join" button at the top of the page, and answer the multiple choice questions that pop up. YOU MUST ANSWER ALL OF THE QUESTIONS IN ORDER TO BE ACCEPTED INTO THE GROUP. After you're accepted into the group, make sure to click on the Notifications button at the top of the group page, and select "All Posts". That way, you'll be notified every time I post anything to the group.
This group will stay open as a regular group, even after the party is over. I'll be sharing new fun things on this group page, so it'll be a fun, creative place to hang out in.