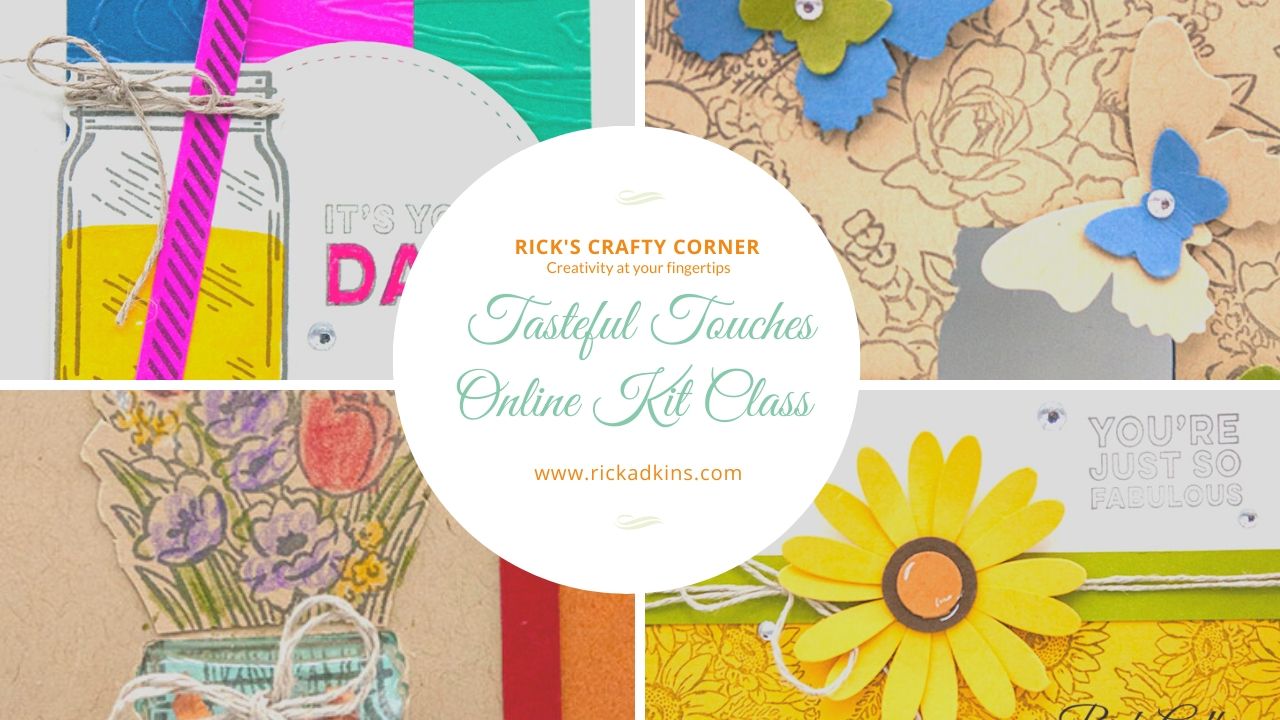 Date & Time:

June 19, 2020  

|

   01:00 PM  -  02:00 PM

Location

Comfort of your own home

Address

Comfort of Your Own Home
Rick's Crafty Corner Monthly Card Club - June 2020
Crafty Corners June Card Club....

You Won't want to miss this month's Card Club!
My monthly club will ship to your door each month!
8 cards and at least $20.00 in product to make your 8 cards.

We're are taking new members for our Monthly Card Club! It's simple! For only $28.00 plus shipping each month you get a package sent to your house each month. It will include 8 cards for you to make. (2 each of 4 designs) A goody bag valued at $20.00 of supplies that you will use, and after six months you will get $25.00 of FREE product of your choice. You can cancel at anytime! Check it out here:

June 2020 Creative Corner Card Club Details:
Date: June 19, 2020
Time: Your Convenience
Location: Comfort of Your Home
RSVP & Payment Due: June 5, 2020
Cost: $36.00 (monthly subscription includes all shipping and taxes)



Details:

I would love for you to make cards with me! In my Monthly Crafty Corner Card Club, we will be making all occasion cards each month featuring a new stamp set or bundle! During the Holiday Season we will make a few holiday themed cards as well.
My monthly Crafty Corner Card Club is a subscription that gives you a package sent to your door each month with 8 cards (2 each of 4 designs), and the supplies you need to make them with some fun bonuses inside! (at least 20.00 worth of product that you get to keep!) (Stamp sets not included. You can substitute with what you already own or add on the stamp set)

The June featured bundle is the Jar of Flowers Bundle from the new 2020-2021 Stampin' Up! Annual Catalog which is on page 12. I also used the new 2020-2022 In Colors on all the cards this month and the Many Mates Stamp Set. You can add on the Jar of Flowers Bundle and the Many Mantes Stamp Set to your club order at a 19% discount or use something you already may own.




Each month my Card Club is offered TO GO! You can cancel at any time, but if you complete 6 months, I will give you $25.00 of FREE product of your choice!
Sign up today!

To sign up for this class by June 5th and get the June Kit you will need to email me for the link before the deadline. I will place the order for all the supplies on June 6th and have it sent to me cut everything resort it and get it out to you in the mail by June 12th. So, as you can see there is going to be a very quick turnaround on this month's club so don't delay in ordering your kit.


Join my Crafty Corner Card Club Today!