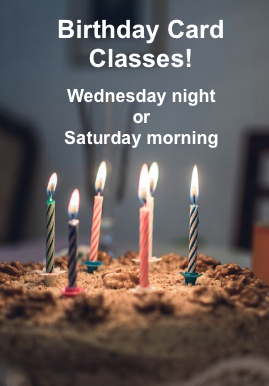 Date & Time:

January 08, 2020  

|

   07:00 PM  -  09:00 PM
Birthday Card Series Classes
Join me for the 2020 Birthday Card Series! We will meet January through April (FOUR classes)! Your choice - Wednesday evening or Saturday morning. Class size is limited so sign up for YOUR class choice! Cost is just $25 for 8 cards (4 designs, 2 of each design) and envelopes OR FREE with a $35 purchase placed during the class! TO GO KITS AVAILABLE! RSVP 48 hours prior to class date.
2020 Class Dates:
January 8, 7p-9p OR January 11, 10a-12p - Masculine
February 19, 7p-9p OR February 22, 10a-12p - Children/Youth
March 11, 7p-9p, OR March 14, 10a-12p - Feminine
April 1, 7p-9p OR April 4, 10a-12p - ??

PREPAY for all FOUR monthly classes ($100) by your January class and receive a special gift from me in May!
Gift Certificates available for class fees.