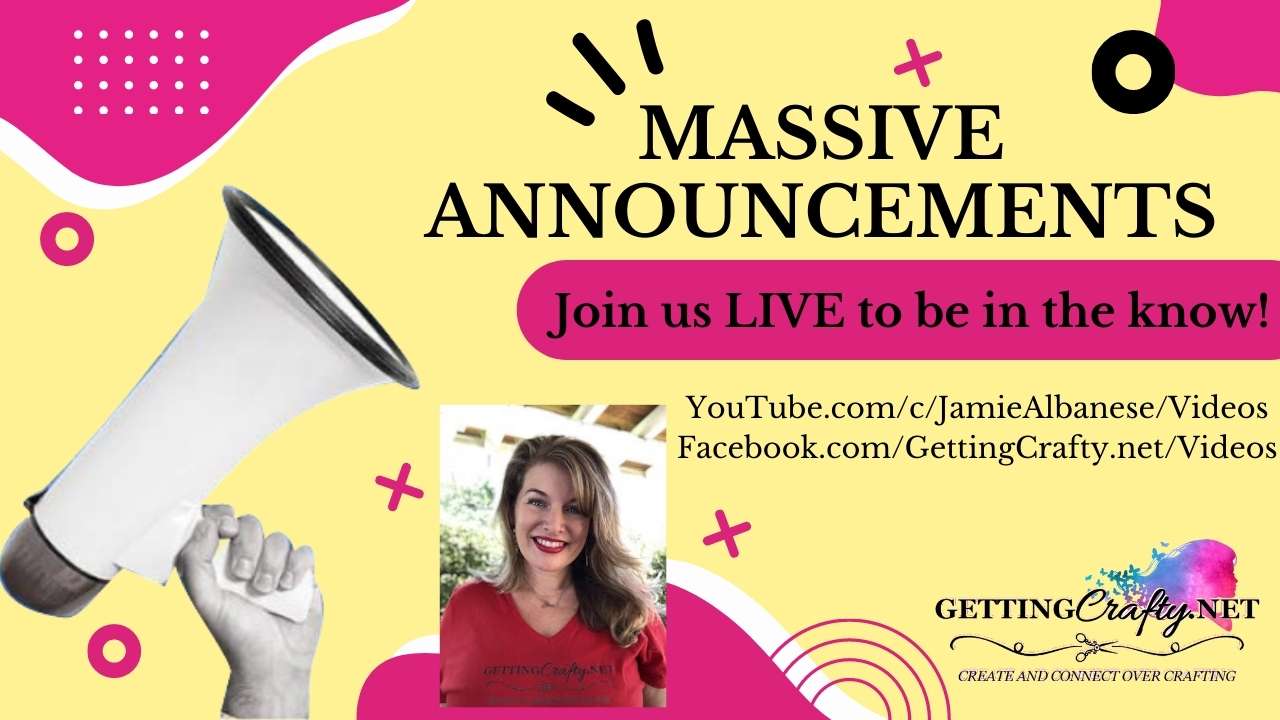 Date & Time:

March 10, 2023  

|

   10:00 PM  -  11:00 PM

Eastern Time (US & Canada)

Location

Getting Crafty Home Studio

Address

GettingCrafty.net
Created By:
Jamie Albanese
Creating this week!! FREE Prizes for JUST Crafting!!
I have to share just HOW FUN it has been to be creating the Mystery Stamping Challenge! I look forward to creating one the first week of every month. YOU still have time to create alongside of us!! With daily clues... you will have such FUN creating this unique fun fold handmade card - oh and the PRIZES are a sweet bonus (for those who create alongside of us - will be entered in the drawings for prizes! Simply Click the Mystery Stamping below, join the free Getting Crafty Stampers group on FB and see the Top Pinned Videos and clues!
Are YOU IN on this Stampin' UP! Getting Crafty Club?? Registration ends TODAY - the 10
th
(though I may extend it for this weekend as we are struggling with online/internet this week - argh!). Join and the LUSH goody bag and Five WOW Cards class is shipped out asap!
This week we had fun creating a quick but wow handmade card for International Women's Day - catch my girls and I in these fun videos lol - including the behind the scenes BLOOPERS!
A Tasty Fun Fold!! Who DOESN'T LOVE NACHOS?!?! We sure do! Here is a POP UP and can we celebrae how EASY it was to create handmade card!! We are also offering a TWO PART Class (in-person in the morning and online in the evening!) Bingo and Taco Fiesta class!! Join us March 25
th
for this FUN Day of tasty creating!! Score HUGE with the Goody Bag and Prizes!!
https://www.gettingcrafty.net/2023/03/are-you-joining-us-for-this-stampin-up.html
https://www.gettingcrafty.net/2023/03/sparkling-watercolor-quick-14-minute.html
https://www.gettingcrafty.net/2023/03/taco-fiesta-z-fold-slit-stampinup-card.html
https://www.gettingcrafty.net/2023/03/i-love-good-mystery-mystery-stamping.html