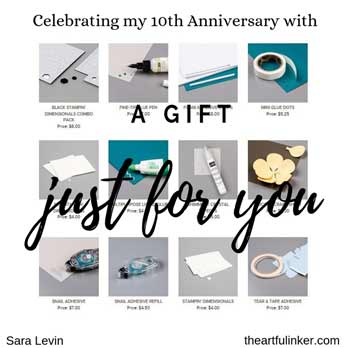 Date & Time:

October 21, 2019   All Day
10 Year Anniversary Gift for You
Celebrate my 10 Year Anniversary
During October 2019
So that you can celebrate too, I'm offering Sara's Anniversary Adhesive Gift:
Choose any 10 adhesives from HERE (single variety or mix and match)
I will gift you with 2 adhesives (of equal or lesser value) This is not a Stampin' Up! promotion.
How
Add multiples of 12 adhesives to your cart in My Online Store ( you must be shopping with Sara Levin ) 2 of the 12 will be my gift to you.
Add any other products
Use Host Code UCNMECRR (if your order is less than $150)
---
The Fine Print
Once your order has cleared on my end, I will rebate the catalog price of the 2 gift adhesives (equal or lesser value) through Paypal.
If you do not have a Paypal account, email me at theartfulinker@gmail.com and I will send an invoice for 10 adhesives (Paypal Fee included). Once the invoice is paid, I will place the order for you and have the 12 adhesives shipped to your address.