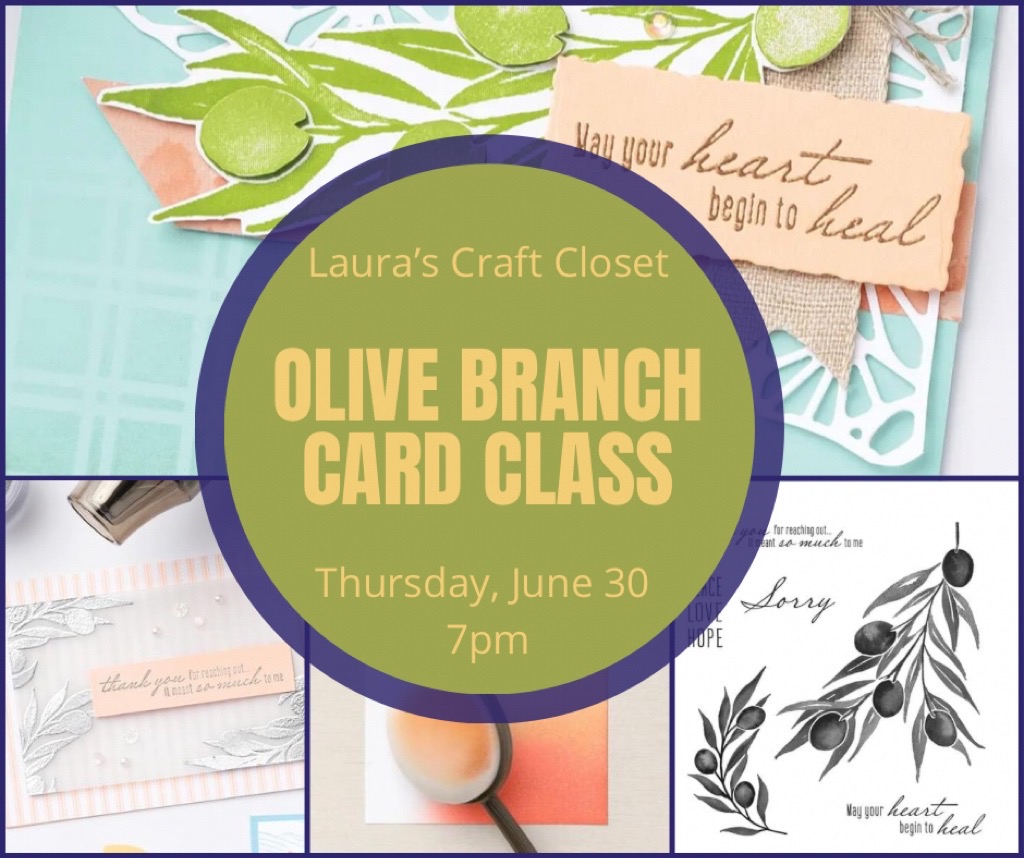 Date & Time:

June 30, 2022  

|

   07:00 PM  -  09:00 PM

Eastern Time (US & Canada)

Address

I'll send the link!
Created By:
Laura Geffert
Olive Branch Card Class
Throughout history, the olive branch has been a symbol of peace, hope, and healing relationships. Join in this Olive Branch Card Class and make 3 encouraging cards (including a sympathy and a thank you card)! I'll be showing a fun sponge technique for us to create a multicolored stamp image. Relax and stamp with me on Thursday, June 30th at 7pm!
✨ To get this technique class for free, you will need to order the following items AND use the class host code CTZT6U7M. ✨ If you already own some or all of the items, then ANY order above $40 with the code qualifies.
———————— Supplies ————————
• Olive Branch Cling Stamp Set (English) $22.00 —— https://bit.ly/3mmF3Qg
• Old Olive Classic Stampin' Pad $8.00 —— https://bit.ly/36qzlZ7
• Shaded Spruce Classic Stampin' Pad $8.00 —— https://bit.ly/3eXAckK
• Blackberry Bliss Classic Stampin' Pad $8.00 —— https://bit.ly/3qMmXHo
• Blending Brushes $12.50 —— https://bit.ly/2LJvNXp
Add All To Cart: https://bit.ly/3GRZhLo
Note that this stamp set includes a larger stamp which needs a large stamp block or a stamparatus platform. If you don't have one, I recommend Block E (https://bit.ly/38QYWvZ )
This will be a long-distance class, but it'll still be social without having to travel! I will prepare and send you all of the cardstock, designer series paper, die cuts, envelopes, and embellishments for these cards prior to the class so we can craft together as a group during a video chat — I'll send the link. I'll be your creative coach and show you each step to put together these cards.
Message me with any questions or RSVP, and I look forward to crafting and "seeing" everyone!

Facebook Event page: https://www.facebook.com/events/749767876466735