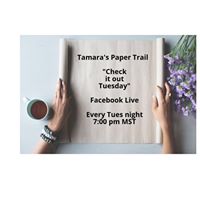 Date & Time:

October 29, 2019  

|

   07:00PM  -  08:00PM

Location

Comfort of your own home ...

Address

... in front of your computer
Created By:
Tamara Bertram
Check It Out Tuesday
Pop on over to my business Facebook Page "Tamara's Paper Trail" and catch my LIVE video called "Check It Out Tuesday". You never know what you'll get (heck, it's usually a surprise to me too until 5 minutes before I go live! lol) but rest assured it will NOT be a stuffy, polished, professional gig! I will stream live for about an hour (give or take the 5-10 minutes to try to get the phone orientation right! lol) showing you products, projects, techniques ... anything goes! I hop you "check it out"!