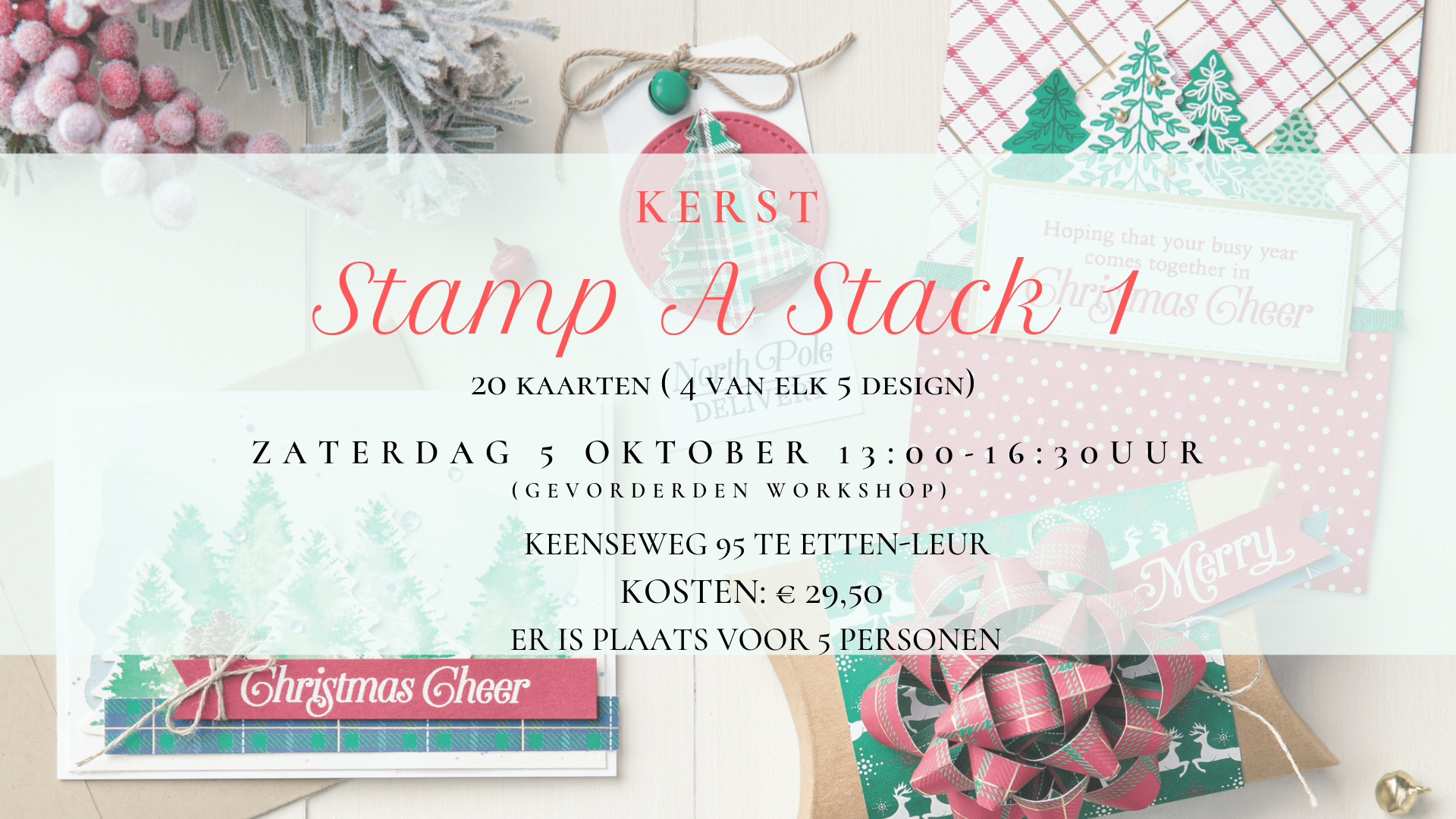 Date & Time:

October 05, 2019  

|

   01:00PM  -  04:30PM
Created By:
Sandra Korten
Kerst Stamp a Stack 1 (gevorderden)
Daar is hij weer!! De Kerst Stamp a Stack 1 en we gaan deze middag 20 kerstkaarten maken. 4 van elk 5 designs.
Wat is een Stamp a Stack?
Stempel een heleboel kaartjes en dat in 1 middag. De kaartontwerpen zijn niet ingewikkeld. Grotendeels heb ik het snijwerk voor je gedaan en zitten de kaarten in pakketjes voor jou om in elkaar te zetten en natuurlijk om te stempelen. :) We gaan 5 verschillende stempelsets gebruiken om een zo gevarieerd mogelijk aantal kaartjes te maken.
Omdat het 20 kaarten zijn die we gaan maken heb ik het een gevorderden workshop genoemd. Het tempo ligt hier iets hoger dan normaal. Wil je nu eens een stamp a stack meedoen, kijk dan bij de workshop op dinsdagavond 29 oktober. Deze stamp a stack is makkelijker en we gaan hier 8 kaarten maken. :)
Datum: Zaterdag 5 oktober
Tijd: 13:00 - 16:30 uur
Kosten: €29,50 incl alle materialen, koffie/thee/snack
Locatie: Bij mij thuis, Keenseweg 95 te Etten-Leur.
Ik heb plaats voor 5 personen aan mijn tafel.
Opgeven kan tot zondag 22 september 2019
Mocht het zo zijn dat er toch meer interesse zijn voor een bepaalde workshop zal ik hiervoor een extra workshop inplannen. Hou dus regelmatig deze paginain de gaten of meld je aan voor de nieuwsbrief of facebookpagina. Dan blijf je op de hoogte van mijn Stampin' Up! activiteiten.
Nieuwsgierig naar de producten van Stampin' Up? Geef je dan op voor een van de workshops of maandelijkse stempelavonden. Opgeven gaat via de mail. Je ontvangt van mij dan binnen 2 werkdagen een bevestigingsmail.